ZZ Group. is a professional manufacturer and supplier of mixing impeller and mixing machine in China. We have been in this field for 10 years. We emphasize introducing new technology and technique. With multiple experts, we are a national hi-tech enterprise specializing in the design, manufacture and research and development of mixing impeller and mixing agitator. Our TOP brand mixing machines are named as famous products and brand trademark, which are received the trust of customers at home and abroad.
Our products mainly include mixing impeller, dispersator, portable mixer, speed adjustable portable mixer, magnetic agitator, belt drive stirrer, gear drive mixer, coaxial agitator, submersible mixer, center drive mud scraper, industry spire mixer, emulsion agitator, homogenizer, chemical mixing machine, pulp & paper chest mixing agitator, paint mixer, gold leaching agitator, concentrate storage mixer, cyanide destruction mixer, mixing agitator for backfill, agitator for municipal wastewater treatment and mixing stands.
Our mixing impellers and mixing agitators are widely used in the field of petrochemistry, fine chemistry, biology, pharmacy, greasy food, cosmetics, chemical fiber, sewage treatment, paper-making, metallurgy and so on. Our mixing machines have been used in the projects of both domestic and international famous enterprises, such as NGK, BOE, Asahi Kasei, SONY, Hitech Semiconductor, Nippon Polyurethane, Danisco, Daqing Oil Field, CHINALCO, Baosteel, WISCO, Hangzhou Iron & Steel Group Company, DAIKIN, MCC, and Juhua Group Corporation.
Our company not only possesses the unique competitive capability, but also attracts the cooperation of domestic and international famous mixing machine. ZZ Group has accumulated rich design experience in the long-term practice for work, and thence is available to offer you the most reliable and the most economic mixing agitators to help you to solve the most troublesome mixing problems.
A number of our mixing impellers as well as mixing agitators have won patents for national invention and utility model. What's more, we have been awarded as national AAA grade credit unit. We adopt ISO9001: 2008 international standard management system to run our company. In addition, we export our mixing machine and mixing equipment to more than 30 countries and regions, such as Japan, Korea, Russia, Singapore, Canada, Kazakhstan, Armenia, Ukraine and Mexico.
We would like to establish long-term stable business relationships with longstanding and prospective customers.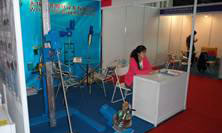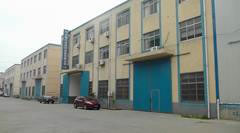 Working Philosophy
Our working philosophy is to build the Top as the first-line brand in China and manufacture top-quality mixing machines. The departments of research and development, design, production and quality management of mixing impellers and after-sales service department should coordinate with each other. "We can do the best" is our belief which shall be set up in the minds of each staff.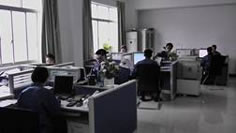 Cooperation
Top Mixer is equipped with various product portfolio of stirring devices. We can offer agitators which are more optimized and reliable as well as lower process maintenance and operation costs. The mixing impellers are applied to the dissolution and dispersion of various liquid-liquid, solid-liquid, gas-liquid, and solid-solid, which power range is 0.12~500 KW, mixing revolving speed range is 0.01~3000r/min.
We offer you the following cooperation: you may use our laboratory to test mixing agitators which will help you find out the best mixing form through experiment and solve the tough mixing problems. We are willing to cooperate with the other companies on products development. We can joint development of new-type mixing machines, and take strict security measures. We can make use of our technology resources to manufacture mixing impellers and mixing agitators in accordance with the requirements of the users. We take responsibility for our products and commit to carry our one-year warranty.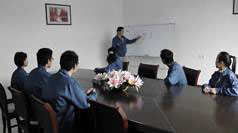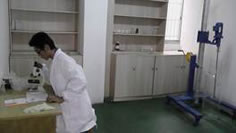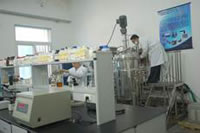 Technical Characteristics
The rich applied mixing technology is well integrated with the mixing operation theory, which makes us enable to use the simulation test date and plenty of mixing data accumulated from production and practice to design and manufacture the mixing impellers that adapt to various working conditions. We obtain outstanding achievements in design and manufacture of oversize mixing machine, slender and flexible shaft agitating device, high-speed stirring apparatus, hygienic stirring equipment, magnetic mixer and side-in and bottom-in mixing equipment. In consideration of following factors, such as different process mixing solution, optimized design of agitating blade type, hydrokinetics and stress calculation of key components, optimized design of mechanical engineering structure, analysis of product economy, we are able to produce the high quality products like mixing impellers and mixing agitators to meet the industrial production demand.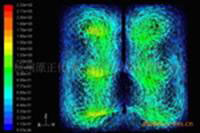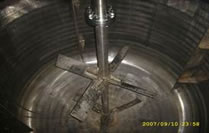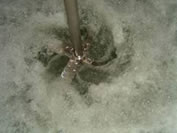 Quality Control
Designing and producing the mixing agitator, mixing impeller and mixing support beyond the customers' expectation is the important part of first-class quality promised by us. Effective process control of ISO9001 quality management system and advanced test equipment and method can constantly improve the quality assurance ability to meet the requirements of customers. We adopt professional standard specifications and strict quality management system to ensure the technologies and mixing machine can meet the demands of customers.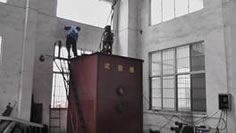 Rapid Response Center
Our customers require us to improve mixing effect, reduce operating and manufacturing cost, and meanwhile they expect to receive high quality and rapid service response. In order to satisfy their requirements, we set up a rapid response center in users' network. The center integrated with application technology, manufacture and maintenance will make rapid response for you at any time.
No matter your mixing process is intermittent or continuous, our application engineer or tester will make a timely and accurate design and choice of mixing machine for you as long as you provide related process parameters.
We are prepared to solve the usage problems for customers. Our service and sales application engineers will arrive at the site for the first time according to the requirements of customers. Our engineers possess rich technical knowledge and experience in mixing, sealing and support system, and they can quickly deal with and solve the mixing problems.